Made for
your company
by specialists
in logistics
operations

Sliic
For over a decade, we have innovated to offer companies the best experience in the Latin American market in logistics operations. Our team is composed of specialists in the area coming from the most varied management segments: socioenvironmental, behavioral, road and security, and information.

We are pioneers in the development of an efficient and preventive system, applied in logistics operations, carriers, shippers, in the transport of people, in industries and insurance companies, aiming at ensuring companies a successful management that creates value, reduces costs and risks, and contributes to socioenvironmental growth.
Customizable system
that is in line with your identity and needs
Your company deserves the most modern
management information system
Differentials
Leading and
high-performance system
Safe and sustainable
operations
Full control of
resources and assets

Monitoring of
end-to-end processes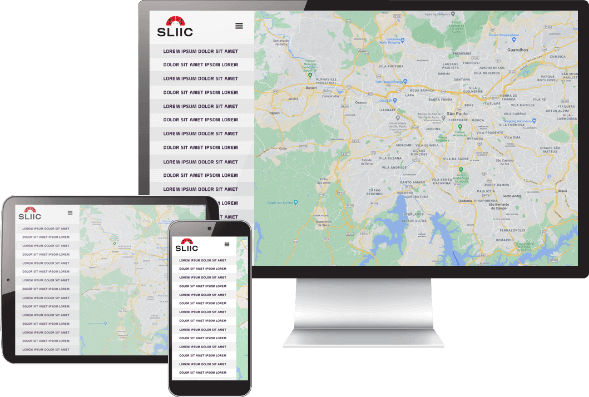 Perfect for safe, sustainable,
and successful management
Our system
Our system is fully customizable and perfectly meets the specific
needs and complexities of your business. It has online and real-time access,
offers an agile navigation and report generation, provides assertive management
indicators, and presents deviations and inconsistencies, in addition to the alert
panels of all steps of the operation, allowing total logistical control.
Optimizes operational procedures
Integrates seamlessly with your platform
Reduces impact and operating costs
Online and real-time prevention
1,2 k

trips are monitored
per month
+1 k

companies use
Sliic technology
9 out of 10

managers
recommend
our solutions
12 Years

as a reference
in
logistics management
The management system solution
your company needs
Services
Check out how our system can help your company in day-to-day processes
and boost your results, while reducing your costs and ensuring security.
Logistics Management
SLIIC system allows integration with any ERP system used in the market, which avoids human intervention and retyping of information. It is also integrated with the main monitoring systems in the market, and it manages all service providers with agility, measuring performance, productivity, identifying bottlenecks in logistics operation processes.
Benefits of using the system
It enables total control over transport operations: inbound, outbound, passengers, fleets, and mobile equipment in general.
It allows conciliating the freight charged and those calculated for payment before the execution.
It provides control and registration of the proof of delivery for each trip, which can be scanned simply and quickly.
Schedule Management of Pick-Up and Delivery
SLIIC system uses an agile tool for Scheduling the Pick-Up and Delivery of each unit, making operations faster and optimizing the time in each step, reducing costs throughout the process.
Security Management
Sliic system assists your company in risk management, in managing the chances of accidents in planned inspections and in behavioral audits by establishing parameters and thorough analyses that guide towards more assertive actions, improving the health of the insurance policy.
Carbon and Waste Management
Sliic system provides a safe reading of the carbon emissions (CO2) of the fleet in real-time and the stages of generation and proper disposal of waste. The tool generates the complete report of the emissions of all logistical operations.
Reverse Logistics Management
Sliic system ensures your company the real-time control of the use and return of equipment, packaging, and accessories in the production chain, as well as the correct destination of waste, contributing to the assertiveness and reduction of financial costs and environmental impacts.
Road Management
Sliic system maps in detail each route of your planning and points out the different levels and types of risks that your assets, drivers, and passengers will face on each route. It indicates the safest path, generates information in real-time, and adapts to each type of logistics.
Prepaid Toll Pass Management and Control
Sliic System is integrated with the main Prepaid Toll Pass operators, which allows the automation of the entire process.
Main gains and opportunities
4 to 6% of gains and cost reduction immediately.
Adequacy of the shipper to Law 10.209 – copy is attached.
Avoid fines and lawsuits.
Reduction of rework and release with disallowance payments, due to the number of wrong axles and other factors.
Proof of effective purchase and transfer of value.